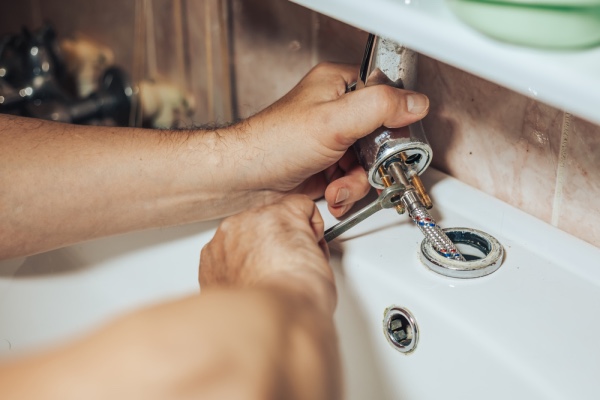 Denton and Collin County Bathroom Repair and Installation Services
Whether you are investing in a new home, buying an older home, or have been living in your current home for years, you unknowingly rely on your bathroom plumbing. One of the biggest things people look for in a home is a great master bathroom. This comfort is immediately broken when the plumbing in the bathroom fails, the fixtures leak, or the bathtub or shower require a replacement.
A trusted plumber, such as the ones you will find at Bewley Plumbing, can help you install new fixtures into your bathroom or repair leaks within water lines or pipes. We are proud to serve the individuals of Denton and Collin county, providing quick and reliable service so you can worry less about your plumbing and go about the rest of your day. Contact our team today to schedule your bathroom plumbing repair or installation services.
Proactive Bathroom Plumbing Repair Services
Even the smallest plumbing issue can lead to serious damage if not handled quickly. For example, small leaks in pipes can lead to water damage in floors or drywall. A leaking toilet can result in a continuing rise in your water bill. Broken pipes can also lead to flooding and serious health concerns, such as mold or mildew growth. No matter how big or small the issue is, you will want it to be repaired immediately.
Whenever you need bathroom plumbing repairs, it is best to seek the aid of a trusted specialist. Inexperienced plumbers or even brave DIY projects can lead to more issues than they solve, as pipes can be installed incorrectly or more damage to fixtures can lead to the problem worsening. Bewley Plumbing offers trusted, reliable, and timely repairs to ensure that your leak or busted pipe doesn't get worse. We offer repairs for the following bathroom plumbing issues:
Toilet Plumbing Repair
Some toilet clogs are easy to manage with a simple plunger, but sometimes, there are clogs that even a plunger can't solve. This often happens when non-flushable items get stuck in the drain. Our experts can help you remove the clog and clear your toilet drain of any leftover debris, making it as good as new. We also offer repairs for broken tanks, bowls, toilet leaks, and running toilets.
Shower and Bathtub Plumbing Repair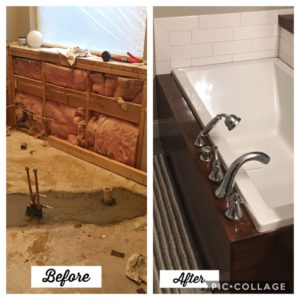 If your shower starts to leak or your bathtub drain is completely clogged, Bewley Plumbing can help. We offer expert repairs and drain cleaning/clog removal services for our residential clients in Denton and Collin county. We work on everything from traditional shower and bathtub fixtures to more luxury fixtures, such as a double shower head or garden tub with water jets.
Drain Clog Removal Services
Clogs are extremely common in sinks, toilets, and shower drains. From hair to soap scum and toothpaste, there is a lot your drain has to swallow, and sometimes, it builds up. Our professional team can help clean and remove any blockage in your drain so that it gets back to working as well as the day it was first installed.
Bathroom Sink Repair
From leaking fixtures to leaking pipes underneath your sink, the team at Bewley Plumbing can do it all. We also don't just repair the issue but also take preventative measures to ensure that the issue doesn't come back again. We do this through Whole House Inspections. Ask us today about our bathroom repair services and preventative maintenance services!
McKinney Bathroom Plumbing Install
Whether you are remodeling your bathroom or building a new home, Bewley Plumbing can help you install your plumbing pipes and fixtures. Our experts understand what goes into making your bathroom plumbing reliable, and we don't cut corners when getting the job done. We make sure that all of the plumbing lines, pipes, and fixtures are installed properly, allowing you to enjoy your dream bathroom without fear of the plumbing breaking down and failing you.
It is always highly recommended that you use professional plumbers instead of handymen from home service stores or companies. Professional plumbers, such as the team at Bewley's Plumbing, have gone through extensive training to become certified experts in the plumbing field.
As such, we continually undergo ongoing training to ensure that we are keeping up-to-date with the latest technology and practices in the industry. Meanwhile, handymen are trained in a wide variety of fields and are not experts in one thing. This lack of expertise can lead to mistakes that, if not caught, can lead to disaster down the road.
Reliable Bathroom Plumbing Services in Denton and Collin County
Bewley Plumbing has been serving Denton and Collin County since 1947. We have made a strong name for ourselves by serving McKinney-area residential and commercial businesses with all of their plumbing needs and continue to serve them as best we can.
No matter what kind of bathroom plumbing service you need, you can trust that our team will be there to help you. Contact us today for more information on our services or to schedule an appointment!
More Resources: